ABOUT
RESERVED TAILGATING AND PARKING ACROSS FROM THE STADIUM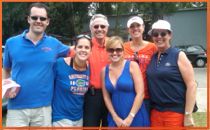 All tailgating lots are owned and operated by a local Gator family. We used to own the Florida Book Store across from campus and have many rental properties near UF. We have been serving the Gator Nation since the 1930s.
My family and I own several parking areas near the UF football stadium and every year more people ask how to reserve a spot for the entire season. They want a guaranteed place to tailgate with their friends and family without having to worry about the hassles that come with it! So in 2007 I decided to open up my parking near UF stadium for season reservations on a first come, first served basis.
Gator Parking started as a way to give Gator fans the convenience of an assigned, reserved tailgating area near the stadium. No where else can you find this combination of price, convenience, and reliability, and we hope you'll tailgate with us this fall!