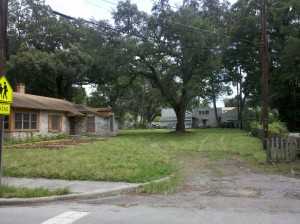 Lots 2 and 3 filled much faster than expected, so I've decided to open lot 4 this year. I had anticipated opening lot 4 next year but realized I needed to get it ready more quickly. So if you choose lot 4, you'll be tailgating on freshly planted sod!
More pictures of lot 4 are coming soon, since this is the newest tailgating lot I don't have any tailgating pictures to show, but I will after September 4th!
This lot is a little less than a block north of Lot 1. Notice the tree canopy, there are 4 mature oak trees on the property that offer a whole lot of shade.
https://parking.gatorparking.com/wp-content/uploads/2019/12/sd.png
0
0
gladmin
https://parking.gatorparking.com/wp-content/uploads/2019/12/sd.png
gladmin
2010-08-21 16:24:18
2010-08-21 16:24:18
Lots 2 and 3 Full, Lot 4 Now Open!
We offer reserved tailgating spaces for the whole season, but I've had lots of questions from fans from out of town taking their son to his first game, or people who just come up for a few games each year to see the Gators play. Unfortunately, it can be very frustrating to find good parking anywhere near the stadium and I thought I'd offer some suggestions for the once-in-a-while, out of town fans:
1. Find a legitimate space. Unfortunately, there are scammers and even well intentioned but misinformed (or drunk) people out there that will cause you a great deal of headache. If you are looking for free parking on UF property, recognize that more and more free parking disappears each year as UF has been tightening down where they will allow people to park. Don't try to move areas that are roped off, they know where they put the ropes are and will tow you immediately. Be very careful that you choose a space that cannot possibly be blocked in, as it's very common to see latecomers who are desperate for parking block an entrance so that everyone else is stuck until they come back to their car. And be prepared to get there very, very early to have any chance of finding a spot within a mile of the stadium.
If you are looking for parking off-campus, know that the City of Gainesville has begun licensing the selling of parking on UF football home gamedays. We at Gator Parking are licensed on all our lots, and ANYONE selling parking must carry a license. If you are suspicious of someone holding a sign that was hand-written on the back of a pizza box, ask to see their license. If they don't have one, they aren't allowed to sell you parking and either a) they may be doing it without the property owners permission and you might get towed or b) they don't even live at the property, they are just seeing if they can sell someone else's parking and you will almost certainly get towed.
2. Come early. Earlier than you think. The reason many people are surprised and frustrated about parking for football games is that unlike other SEC schools, UF has far more limited parking around the stadium. In our case, the stadium is right near the core of the university as opposed to being further away where parking does not conflict with other uses. UF has not been able to build nearby parking garages other than the O'Connell Center Garage which is reserved for big donors. That means parking is confined to residential yards to the north and east of campus and on-campus parking. It's not uncommon for parking to be scarce or gone for miles around HOURS before a big game. And all the exits off I-75 to Gainesville can be backed up for half an hour. Things are changing in 2010 because of the new tv broadcast deals, but as a rule of thumb, if you plan to attend a big afternoon game (say 3:30 kick off) arrive no later than Noon, or 11am if you want to find a decent spot. Noon kick-offs tend to be easy teams and you can usually just show up a few hours early and be fine. Night games (around 7pm kick-off) can be easy or hard depending on the opponent. If it's Vandy, you can show up in the afternoon and be fine. If it's Miami, get here as early as you possibly can and pray you find somewhere, anywhere to park!
3. Be prepared to pay to be close to the stadium.Parking near the stadium is not only much more convenient than walking several miles from your car, it's more FUN. That's because true gator fans tailgate nearby where all the action is. In our reserved lots, you can hear the roar of the stadium before the game as fans get warmed up. Many tailgators don't even go in to watch, they stay under the comfort of their tailgate tent with friends, eat their food, and watch the game on TV while hearing cheers from inside the stadium.
Because of the high demand to be up close, prices rise sharply as you get within a stone's throw of the stadium. For a big game, to be a block away can easily set you back more than $100 per game for parking. However, once you get several blocks into the neighborhoods near the stadium prices generally go from $30-60 per game depending on how big the game is and how many fans from the opposing team show up (the more fans from the away team, the fewer parking spaces are available for Gators fans).
All these factors can contribute to a large degree of unpredictability around uf gameday parking. Season ticket holders and folks who want to leave all this stress behind can get a reserved season pass at www.GatorParking.com, but if you're just coming to one or two games then just come early, look for legitimate signs from legitimate looking people, and know that the closer you get to your seats, the more you'll pay.
https://parking.gatorparking.com/wp-content/uploads/2019/12/sd.png
0
0
gladmin
https://parking.gatorparking.com/wp-content/uploads/2019/12/sd.png
gladmin
2010-07-30 12:36:26
2010-07-30 12:36:26
How to Find Parking for a Gator Football Game at UF
If you're just getting into tailgating or simply upping your game presence, the good news is the basics of a great tailgate are not hard to come by and you can be fully prepared for the season with just a few hours work.
1. Food & beverage. Plenty of folks make cooking the central part of their tailgate and scour such sites as allrecipes for tailgate specific meals, and I wouldn't be telling you anything about beverage choice that you couldn't find on hundreds of other websites. For people that don't want to mess with that part, you can get a great to-go order from Sonnys and feed a large group with no prep work needed. And the number one thing to know about alcoholic beverages is that if you're on private property you're generally ok, but step into a public street, sidewalk, or university avenue with an open container and you"re asking to get a fine.
2. Shade. I list this second because those first few home football games at UF are HOT. While some of our tailgating lots are shaded most of the day (particularly lot 2 and lot 3, but some of lot 1 as well) if you're in the sun from 10am to watch a 3:30 game, and you're not on the alumni side or in a skybox, you're going to roast. So when you tailgate, get a canopy. They set up quick, come with rollers for easy transport, and keep you and your cold beverages out of the sun. It's easy to get a blue 10×10 from amazon or you can quickly go upmarket to one of the larger canopies from Shelterlogic or a camping store. Just be sure to get a carrier that rolls, any quality canopy is going to be heavy and you don't want to lug it.
3. Power. Whether you're using an amplified stereo or a 42″ plasma, you're going to need power. If your needs are small you can get an inverter that will convert your cigarette lighter to a standard outlet, but you'll either want to carefully watch your power consumption or leave your car idling. If you're going to power more than a few fans or a blender, you might as well invest a surprisingly small amount of money in a gas generator. Newer models are quiet, efficient, and cheap. For example, here's a 1200 watt model for less than $150. Spend more to get more, but that's a pretty nice starting point.
4. Gimmicks. Nothing says tailgating like the awesome (or goofy) device you've brought with you to maximize your favorite tailgating activity. There's the Cruzin Cooler that combines transportation without leaving behind your favorite beverage, various hitch mounted portable grills, cornhole (aka corn toss or bean toss) which is popular in our lots because of our open grass areas. We've had everything from a guy who recreated a living room complete with furniture and throw rugs (all to provide ambiance for the big screen TV and stereo system) to a group of kids who built a device allowing 100 people to drink a beer at once. Beer hats, footballs that whistle when you throw them, inflatable gators, all are accessories that make gameday enjoyable and memorable.
If you show up with any or all of these items in mind, we'll provide an uncomparable location to tailgate in.
https://parking.gatorparking.com/wp-content/uploads/2019/12/sd.png
0
0
gladmin
https://parking.gatorparking.com/wp-content/uploads/2019/12/sd.png
gladmin
2010-06-19 15:00:24
2010-06-19 15:00:24
Turnkey Tailgating at Florida Field